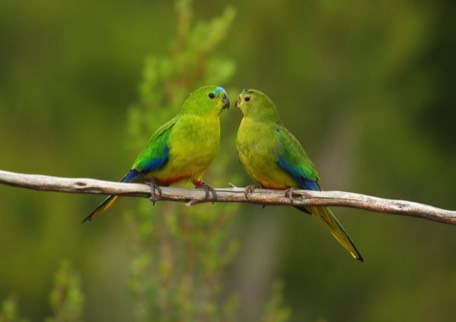 The
Orange-bellied Parrot
(
Neophema chrysogaster
) is a small
broad-tailed parrot
endemic
to southern
Australia
, and one of only two species of parrot which migrate. The adult male is distinguished by its bright grass-green upperparts, yellow underparts and orange belly patch. The adult female and juvenile are duller green in colour. All birds have a blue frontal band and blue outer wing feathers. The diet consists of seeds and berries of small coastal grasses and shrubs.
The Orange-bellied Parrot breeds in
Tasmania
and winters near the coast, foraging on saltmarsh species, beach or dune plants and a variety of exotic weed species
[2]
on southern mainland Australia. With only 44 wild birds known to be alive after the summer 2012/13 breeding season,
[3]
it is regarded as a
critically endangered species
.
[4]

Orange-bellied Parrots are being bred in a captive breeding program with parrots in
Taroona, Tasmania
,
Healesville Sanctuary
,
Adelaide Zoo
,
Melbourne Zoo
,
Halls Gap Zoo
,
Moonlit Sanctuary Wildlife Conservation Park
and Priam Parrot Breeding Centre. The captive population consists of around 300 birds, with a target of 350 birds by 2016/17.
[4]
Because of the alarming decline in the wild population in recent years, an additional 21 birds from the wild population were captured in 2010/2011 to improve the genetic diversity of the species' captive breeding program. Taken as a whole, the captive population is termed an "insurance population" against extinction.
[5]
WIKIPEDIA